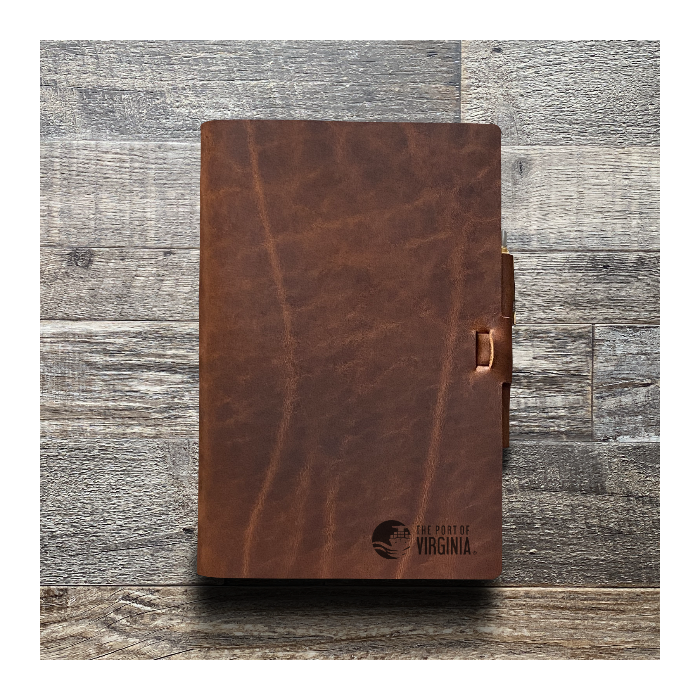 Custom Classic Cut - Refillable Leather Journal
---
- Refillable with 8.25" x 5" Book
- Pre-Installed with Insert and Pen
- Custom Bar Binding Construction
- Signature Hinge Pen Holder
Our Classic Cut Murdy No. 2 Refillable Leather Journal is created for the writer, traveler, office, and everyone else. These beautiful and durable 5-6 oz. full-grain leather journal will serve you well for years to come. Laser engrave an inscription into the front cover or add a spine engraving.
Created around the ubiquitous little black notebook, our cover uses an innovative, in spine binding bar, to allow for any 8.25" by 5" notebook refill. Three stainless steel screws hold the insert firmly in place, but allow for replacement with only a Phillips screwdriver. Easily add any refill by following our simple instructions.
Each of our Murdy No. 2 designs will come with a ruled insert pre-installed, and the option to upgrade the insert to one of the many variations of the classic Moleskine brand books. Furthermore, each design comes with a stainless steel and gold trim Parker Jotter. 

Feel confident that your journal is the best money can buy. Murdy Creative Co. would love to hear your stories. Use the #MurdyNo2 or #MurdyCreativeCo to see and hear about our community today.

If you are interested in bulk/corporate pricing or any type of custom engraving, please contact us at Sales@MurdyCreative.Co to work with our talented designers.
Our Leather is 5-7oz full grain cowhide, chrome and oil tanned in Milwaukee Wisconsin. It is fully waterproof with a very low water absorption (meaning that liquids bead up and run off the surface).
They are virtually maintenance free and will naturally patina over time from air, sunlight, oils, and other environmental features. Saddle soap can be used to remove dirt and helps condition the leather if that is desired.
All our leather is backed by our 120 year warranty.
All orders have a crafting lead time that varies depending on work load. The specific crafting lead time can be found in the website header.
We offer Free Domestic Shipping to the lower 48 states via UPS Ground and to Alaska and Hawaii via USPS Priority Mail for packages over 1 lb. Shipping times may vary depending on distance and carrier workloads. No carrier offers any guaranteed delivery times since 2020. We do prioritize orders that are being shipped via 2Day or Next Day Air. If speed is critical we recommend those options be selected.